MCN RCD Software
Remote Comparator Display
---
MCN RCD Software provides real-time monitoring and control for most comparators and voters, as well as for other site equipment such as doors, generators, and alarms. Comparators and site equipment status for multiple sites can be monitored and controlled from the same screen. On-screen commands include Force-Vote and Disable of receivers.
At a glance, a dispatcher or technician can determine Vote, Receive, and Fail status for any receiver in the system. A noisy receiver can be remotely disabled, quickly allowing a system to function until maintenance can be performed.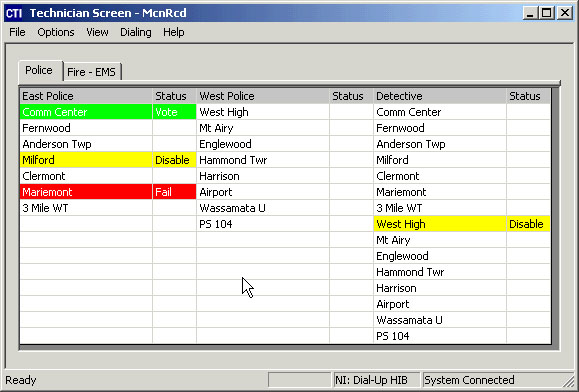 Several versions of RCD Software are available:
RCD Standard software is designed for single-user or stand-alone applications.
RCD Client-Server software is designed for situations that require multiple display position, either in the same location, or in various locations.
RCD Advanced Client-Server software adds the capability of adding multiple MCN Network Interfaces for improved scalability.
RCD Server 8000 software adds IP interfacing for Motorola GCM8000 and MLC8000 next-generationo comparators.
RCD Software Comparison
| Product | Client-Server | # of Clients | Comparator Interface | Remote Link | # of Network Interfaces | Third Party Client |
| --- | --- | --- | --- | --- | --- | --- |
| RCD Standard | No | n/a | Discreet I/O via CIB, AIB, IIB | IP, Dial-up | 1 | |
| RCD Client-Server | Yes | 4 Std; 8-64 Opt. | Discreet I/O via CIB, AIB, IIB | IP, Dial-up | 1 | Option |
| RCD Adv Client-Server | Yes | 4 Std; 8-64 Opt. | Discreet I/O via CIB, AIB, IIB | IP, Dial-up | 1 Std; 5-61 Opt. | Option |
| RCD Server 8000 | Yes | 4 Std; 8-64 Opt. | IP | IP | 1 Std; 5-61 Opt. | Option |