Monitoring & Control Network () Systems
Remote Monitoring & Control Networks for Audio Receive Comparators & Voters, Site Alarms, Generators
---
Monitor and Control Infrastructure Remotely

---
Solve system problems faster
At a glance, a dispatcher or technician can determine status for any receiver in the system, or site equipment I/O. A noisy receiver can be remotely disabled, quickly allowing a system to function until maintenance can be performed.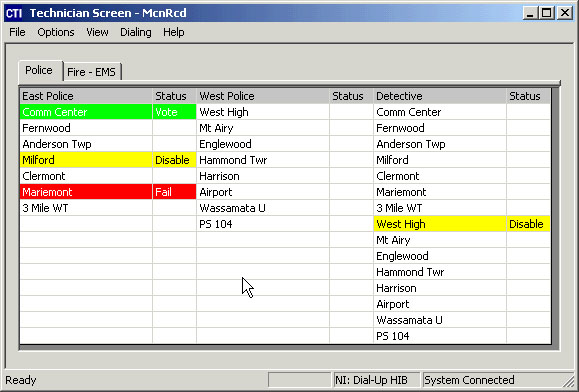 Features
Devices
Systems

Real-Time Monitoring/Control
Receiver Failure Alarm
Detect Audio Problems
Detect Interference

GRV 8000
GCM 8000
MLC 8000
Legacy comparators

P25 Trunking
Conventional
---
Keep your system at peak performance levels
MCN Systems are custom engineered to provide real-time monitoring and control of most comparators and voters, as well as for other site equipment such as doors, generators,and alarms. Using MCN RCD™ software, comparators and site equipment status for multiple sites can be monitored and controlled from the same screen.
A variety of hardware and software modules makes it possible to fill any need. Click on a link on the right to learn more about MCN Systems.