RadioPro
Radio over IP solutions for PCs and mobile devices
RadioPro provides remote access to Motorola MOTOTRBO radios via IP Networks. PC-based client software presents a user with either a console for dispatching simultaneous radio channels (RadioPro Dispatch), a low-cost user interface for PC users (RadioPro Talk), or a mobile app (RadioPro Mobile) that runs on iPhone/iPad and Android devices. As shown in the diagram, a system may have a mixture of Dispatch, Talk , and Mobile Clients. The IP Gateways interface the radio system to an IP network, ensuring easy wide-area deployment without purchasing and configuring server PCs.
RadioPro combines flexibility to solve any Radio-Over-IP challenges, ease of system expansion, and cost savings over other solutions.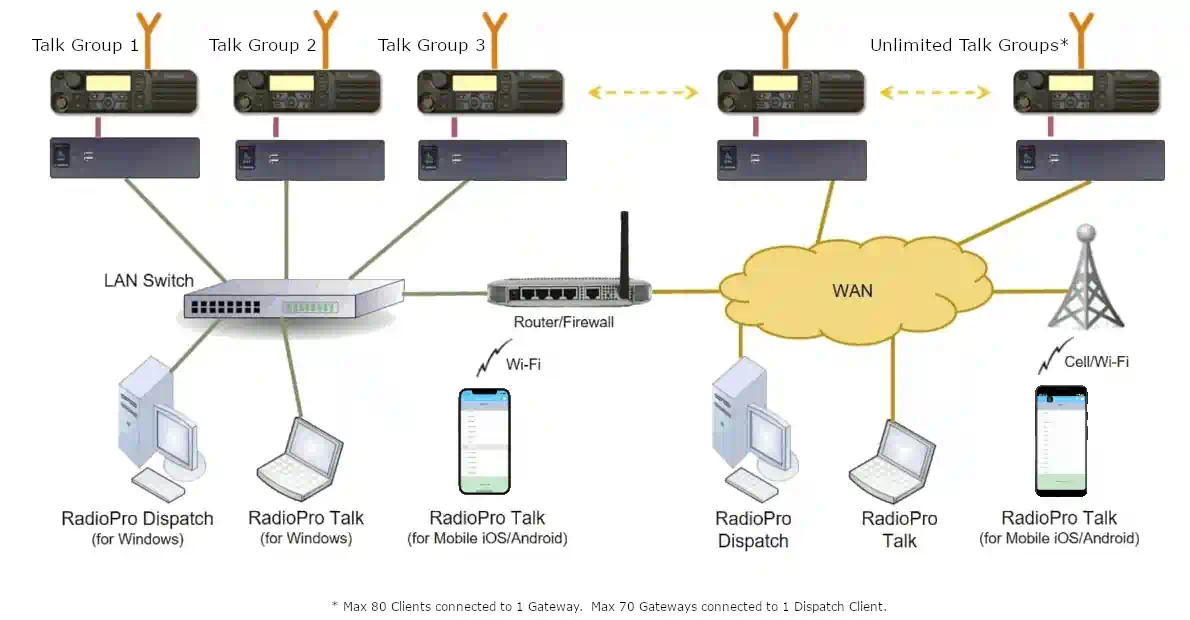 System Components
A RadioPro System includes the following components:
A control station radio and RadioPro IP Gateway for each simultaneous talk group.
Client software installed on PCs or mobile devices. The following applications can be used together in the same RadioPro system:
---
The Interface between Radio and IP that makes sense!
The RadioPro IP Gateway provides the hardware interface between a control station radio and an IP network. (Refer to the system diagram above.) Many other solution require a radio over ip server in addition to having a gateways device for each radio. With the RadioPro solution, each radio over ip gateway router is independent and does not need to check in with a server. In lieu of purchasing and configuring server PCs for this function, the RadioPro IP Gateway enables lower cost and quicker installation with the following features and benefits.
A Self-Contained Gateway and Server
This single, compact device requires no additional software or hardware installation by the installer. Configuration is made easy; therefore installation costs are kept to a minimum.
Pre-configured Audio Interface
The custom audio interface of the RadioPro IP Gateway is preset to give the highest quality audio. The guess-work for setting transmit and receive levels has been eliminated, and enables quick installation.
Audio Compression
Audio compression reduces the IP network bandwidth requirement to only 2.2kBytes/s per channel.
Small Footprint
Small size allows installation in limited spaces.
Remote Interface
No keyboard, monitor, or mouse is required. Just 8" x 3" x 12" deep, and less than 3 pounds, so that multiple RadioPro IP Gateways can be mounted on a standard 19" rack.
Watch-dog Circuitry
Integrated Watch-dog circuit enables worry-free operation in remote, unattended facilities.
---
Dispatch on your MOTOTRBO radio system from ANYWHERE ...
... to multiple sites
The RadioPro Dispatch client offers a console-type solution for applications requiring connection to many channels or talk groups. It is designed with an intuitive user interface to minimize learning time and maximize a user's efficiency. The IP Gateways and control station radios can be scattered among different locations, or centrally located. A host of accessories are available to implement an enterprise solution; including desk microphones, headsets, footswitches, and touch screens – all with PTT capabilities.
---
Talk to your radio system from anywhere in the world!
RadioPro Mobile is a radio over ip Android or iOS solution. The app allows remote access to your 2-way radio system from Android and iOS (iPhone and iPad) mobile devices. Group or private calls are as easy as making a selection from the subscriber list, and then clicking the PTT button. Selection of a talk group is made from a list on the main screen. Group and private calls are made easy by a "Contacts" button that is conveniently located next to the PTT button.
RadioPro Mobile is a useful radio over ip app when you are on-the-go and outside the coverage of your radio system, yet still need radio communications. It can also be used within a Wi-Fi network to lower monthly cellular charges.
Download RadioPro Mobile for your mobile device from the Apple App Store or the Google Play Store; search for "radiopro".
---
RadioPro Solo Client for Windows
Feels and operates like a MOTOTRBO radio
RadioPro Solo is a radio over ip software solution for Windows desktop or laptop computers that focuses on simplicity for the user. It allows remote access to a Motorola radio over ip so that users can stay in constant radio contact.
This is an economical solution in an office environment when using a radio is too expensive or involves too much additional hardware.