RadioPro Dispatch™ Software
Manage your team remotely from a PC workstation
---
The RadioPro Dispatch™ software runs on Windows® operating systems and emulates a Motorola dispatch console or Kenwood radio dispatch software system.
The dispatch radio system has been optimized for Motorola MOTOTRBO™ and Kenwood NEXEDGE® land mobile radio systems.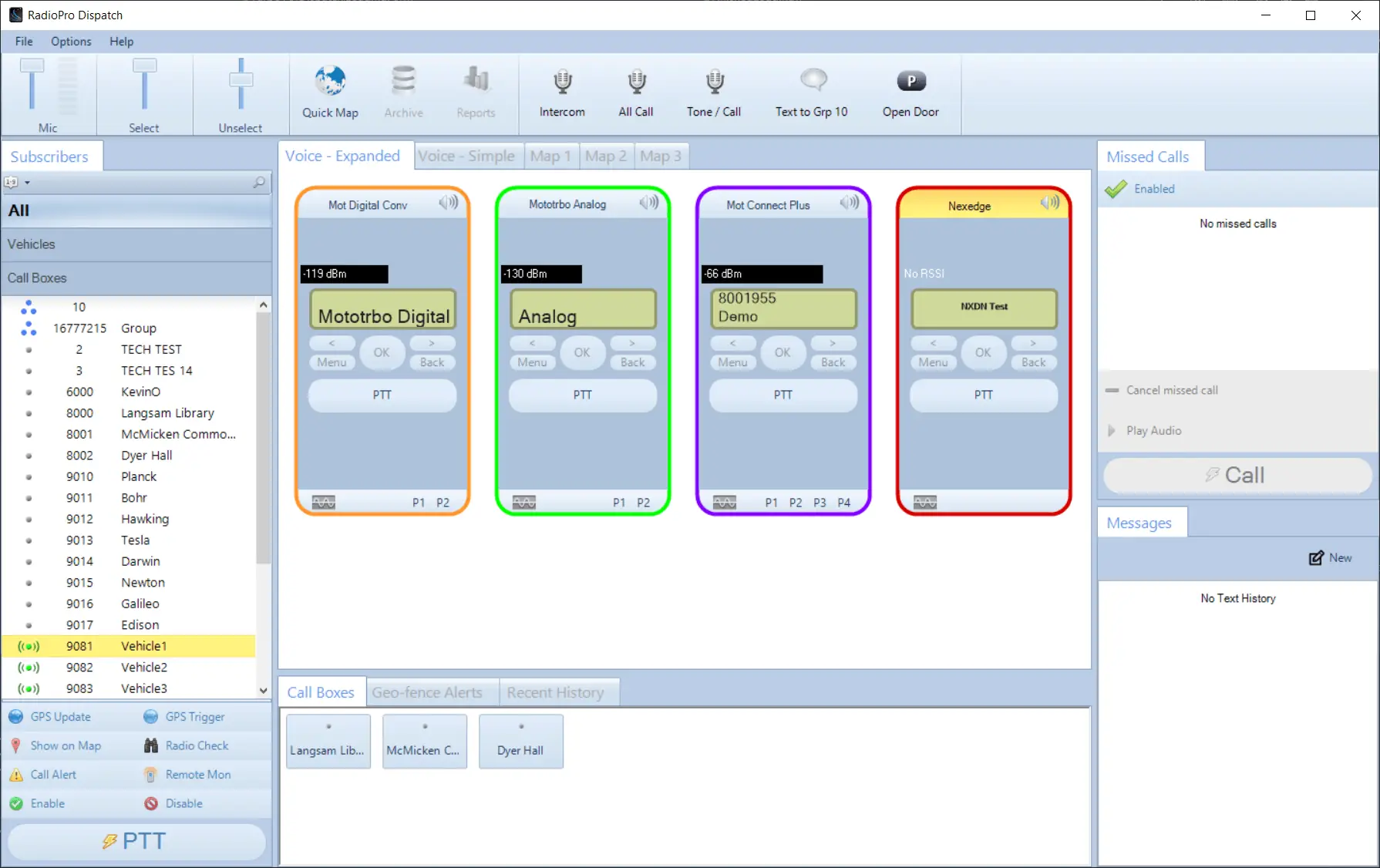 Key up individual radios or groups of radios for private calls, group calls or all-call broadcast messages. Send radio text messages to single radios, subscriber groups or all-call broadcast text messages.
Signal a radio on your network to make sure it is operational. Remotely monitor any radio on your network. Disable / enable radios from the dispatch console.
User Guides:
Installation Instructions:
Data Sheet:
Frequently Asked Questions:
Dispatch Accessories:
Dispatch System Software Use Cases:
Dispatch Software Downloads:
---
Motorola MOTOTRBO™ Supported Features:
System Type


Feature
Analog
Conventional Digital
Capacity Plus
IP Site Connect
Linked Capacity Plus
Connect Plus
Capacity Max
Voice Dispatch
Text Messaging
GPS Mapping
ARS
Private Call
Remote Monitor
Remote Enable/Disable
---
Kenwood NEXEDGE® Supported Features:
System Type


Feature
Analog
Analog with FleetSync
Digital NXDN
Digital NXDN with call ack.
NXDN & LTR Trunking
NXDN Trunking (Mssg Trnkd)
Voice Dispatch
Text Messaging
GPS Mapping
Status Updates
Selective Calling
Remote Monitor
Remote Enable/Disable
---
Feature Highlights:
History Logging
Record everything
Audio transmissions, radio text messages, and GPS events are recorded for the duration that the RadioPro Dispatch™ software is running and connected to a RadioPro™ IP Gateway. History logging uses database technology that does not require recurring licensing fees. The database technology also simplifies archiving and maintenance tasks.
---
Text Messaging
Communicate Without Voice
Initiating LMR based text messsages can be a cumbersome task due to the limited buttons on a portable radio. From the dispatch console application, text messages are easily typed using a full keyboard.
Job assignments for team members can be texted from the ip dispatch console system. Team members will have that information for quick retrieval rather than re-listening to a previous voice transmission or calling back to dispatch for the information to be repeated.
---
GPS
Locate your fleet and track vehicle proximities
See where your fleet is now and where they've been with GPS mapping and breadcrumb trails.
Run GPS location reports, vehicle stopped reports, and speeding reports.
Reverse Geocoding
With the RadioPro Dispatch™ software version 8.2.0, GPS information from subscriber radios is translated into physical addresses. This address information can be used in reporting and audits.
This reverse geocoding solution is a Non-Recurring cost solution. Other solutions such as those available from Google and Bing have a "pay per translation" or "pay with advertising" revenue model.
---
Avigilon Integration
Trigger CCTV camera equipment from call boxes during an emergency.
2-Way Radio Call Box transmissions can trigger Avigilon Camera alarms. Cameras can be programmed to pan and zoom to view the call box where the emergency is occuring.
---